I'm Wade Pfau, the founder of Retirement Researcher. I'm the Professor of Retirement Income at The American College of Financial Services, a higher education institution for financial planners. I'm also the Director of Retirement Research for McLean Asset Management and inStream.
I earned a Ph.D. in economics from Princeton University in 2003 with a dissertation about Social Security reform, and I became a CFA charterholder in 2011.
People are finding it more and more difficult to figure out how to plan for retirement – how to save while working and how to convert their savings into sustainable income for the rest of their lives. To be sure, making the right decisions is an exceedingly complicated task, but it is not impossible.
RetirementResearcher.com exists to help guide you along the path to a successful and sustainable retirement by providing modern, sound academic research.
This website is unique because I'm an active researcher and educator about retirement income strategies and I regularly discuss my latest findings here. I publish research on these topics in leading peer-reviewed practitioner-based financial planning research journals.
My research has received several awards, including:


Two Montgomery-Warschauer Awards, which are awarded annually by the editors of the Journal of Financial Planning to "honor the paper that provided the most outstanding contribution for the betterment of the Journal's readership in the preceding year."

Retirement Management Journal

Acadamy of Financial Services

Journal of Personal Finance
In addition, I'm a selectee for:
Investment Advisor IA 35 for 35 List for 2015
InvestmentNews 40 Under 40 for 2014
Investment Advisor IA 25 List for 2014
InvestmentNews Power 20 for people expected to shape the financial advisory industry in 2013
Financial Planning magazine's "Portfolio Innovator Award"in 2012
I also speak at leading conferences in the financial planning and wealth management world (more on that below).
My research has been discussed in outlets including the print editions of:
And I'm a regular contributor to:
While many advisors approach retirement income questions with pre-determined answers, my research focuses on a wide range of possibilities based on the unique needs of individual households. The best approach to building a retirement income strategy involves remaining open to all the possibilities and how they can meet your specific objectives and constraints.
McLean Asset Management and I now work together to draw from a wide range of retirement income tools to create a comprehensive retirement income plan for you.
I get a large number of requests to create whitepapers or provide quantitative analysis for topics that align with my research agenda and findings. I have also served as an expert witness in legal cases.
Feel free to contact me about potential opportunities or questions. Here are examples of my whitepapers:
A Whitepaper for Jefferson National
"A New Approach to Retirement Income: Next-Gen vs. Traditional VAs"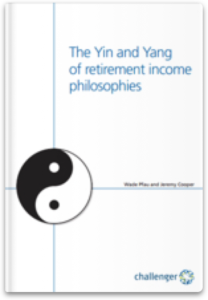 A Whitepaper for Challenger (Australia)
"The Yin and Yang of Retirement Income Philosophies" (with Jeremy Cooper)
A paper for the Stanford Center for Longevity and Society of Actuaries
"The Next Evolution in Defined Contribution Retirement Plan Design" (with Steve Vernon)
A Whitepaper for the Annexus Research Institute
"Mitigating the Four Major Risks of Sustainable Inflation-Adjusted Retirement Income" (with Rex Voegtlin)